What's this weird site about?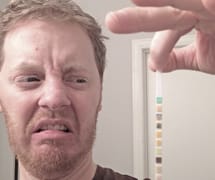 In spite of my grumpy expression, I enjoy monitoring health-related tests in an attempt to improve them. So I built this site to compile all the resources for doing your own testing. It's also meant to convey the idea that you don't need a doctor to get your own bloodwork, which was surprising to me starting out.
If you'd like to see updates, I'll be posting on the Facebook page. I know it says TestProviders, that was just the name of the even-more-boring version of this site.
Tests I've found particularly useful
Chemistry ("comprehensive metabolic panel")
Cholesterol / lipid panels
General articles
Tracking results
Resources for influencing your levels
Getting bloodwork in Canada, the UK, and Australia
Full list of tests
Compare the options from the eight direct-to-consumer providers I know of for the following tests: